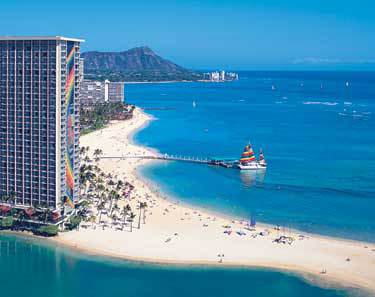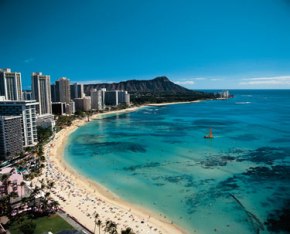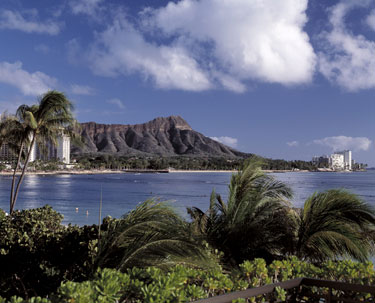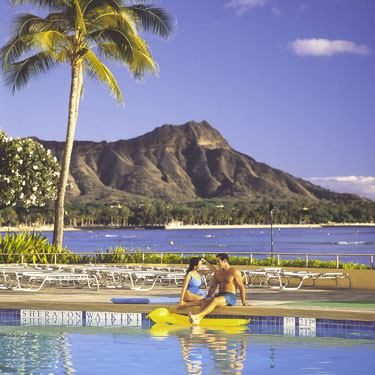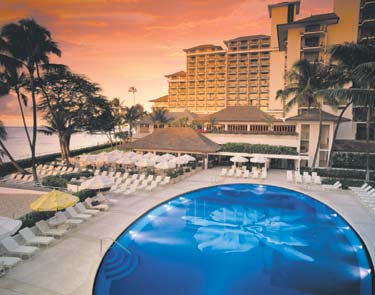 Halekulani An oasis of tranquility in the heart of Waikiki, this sensational resort provides the ultimate in romance, luxury and comfort for each and every guest. Enjoy complete pampering at the lavish spa, improve your backswing at nearby championship golf courses, indulge in delicious cuisine at the gourmet restaurants and take a relaxing stroll along the white-sand beach as the kids enjoy the endlessly entertaining children?s program. Indulge your senses during stays at this premiere island getaway.
REQUEST INFORMATION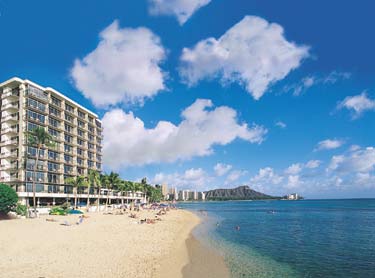 Outrigger Reef on the Beach This deluxe beachfront hotel beckons with a selection of popular restaurants and cocktail lounges, a full service day spa, nightly entertainment, an extensive pool area that includes rejuvenating Jacuzzis and a romantic atmosphere perfect for two people in love. Enjoy the array of specialty shops in the lobby and then spend sunny days sailing, wind surfing, or lounging by the pool.
REQUEST INFORMATION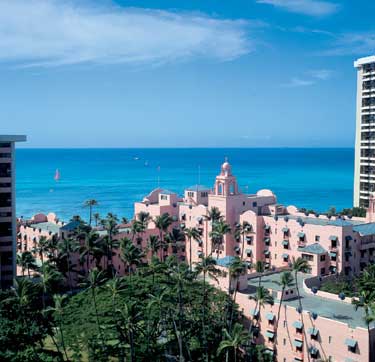 The Royal Hawaiian Since its original opening in 1927, this historic hotel has remained the most celebrated landmark on the world-famous Waikiki Beach. Guests enjoy complete pampering at the spa and relaxing afternoons at the Royal Afternoon Tea. For generations of cultivated travelers, this upscale retreat has become synonymous with luxury and Hawaiian tradition.
REQUEST INFORMATION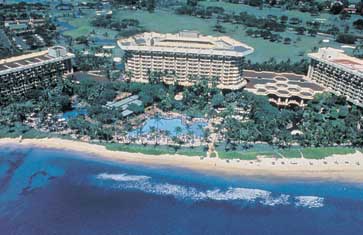 Hyatt Regency Spanning over 40 acres of lush tropical gardens, this inviting resort provides the perfect blending of family-friendly service and attentive hospitality. Boasting colonial-style guestrooms with rich wood furnishings, it features a nightly luau, dynamic dining options, a half-acre pool, a 150-foot lava tube slide, a sand-approach kid?s pool and a breathtaking oceanfront spa.
REQUEST INFORMATION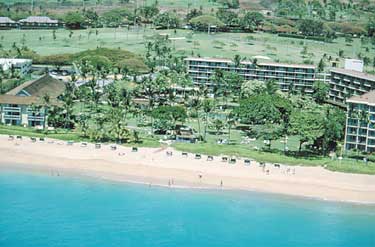 Kaanapali Beach Hotel In the heart of Maui's premier resort area, this family-friendly resort blends tasteful style with authentic Hawaiian hospitality. Guests enjoy delicious cuisine, nightly hula shows, interactive cultural activities, an arts and crafts fair and a departure lei ceremony. Fronting a world- famous beach, this is a charming setting to create lifelong memories.
REQUEST INFORMATION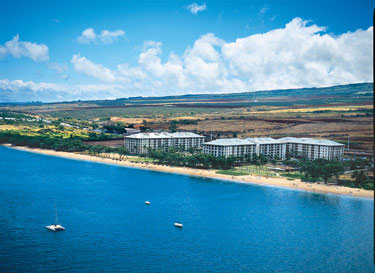 The Westin Maui Resort With luxury accommodations, inviting restaurants and a selection of fine shops, this spectacular resort sets the standard for romance and fun. Relax at the expansive aquatic area that includes refreshing pools, water slides, an outdoor Jacuzzi and a swim-up Jacuzzi hidden in a grotto. Then enjoy pampering spa treatments at the upscale oceanview health club.
REQUEST INFORMATION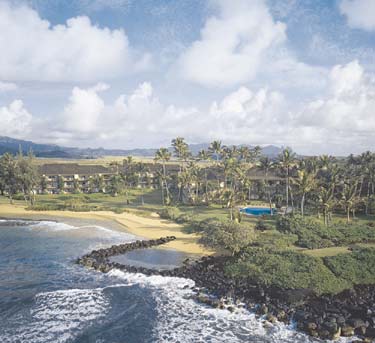 Outrigger Lae Nani Nestled along the Coconut Coast, this condominium resort provides tasteful beachfront accommodations just a short walk from the second largest shopping center in Kauai. Appealing accommodations feature fully-equipped kitchens and spacious private lanais, while the heated oceanfront pool and lava-rock protected swimming area is ideal for families with children.
REQUEST INFORMATION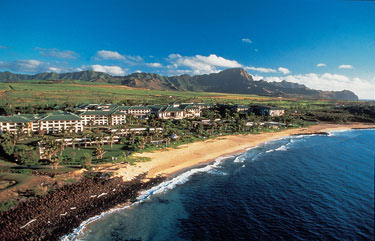 Grand Hyatt Kauai Resort Reminiscent of the grand hotels from Hawaii?s golden age, this premiere resort offers a world of invigorating lava rock showers, sparkling pools, manicured gardens and a welcoming open-air setting. Overlooking Poipu?s majestic Keoneloa Bay, it offers a water playground with a 150-foot water slide, activities programs for kids and teens and an inspired spa.
[ Charge ] [ Honeymoons ] [ Privacy Policy ] [ Punta Cana Resorts ] [ Mission ] [ Mexico ] [ Florida ] [ Cruises ] [ bermuda.htm ] [ Hawaii ] [ Caribbean ] [ Booking ] [ Agents ] [ About us ] [ Menu of Services ] [ Contact ]
Call today at 1-877-229-6008 or 1-757-229-6008
mailto:vipleisuretravel@cox.net
VIP Leisure Travel
FAX: (757) 229-6130