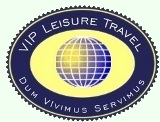 Florida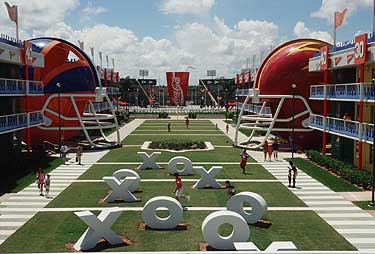 Disney's All Star Resort Experience Disney quality at a value price. Unique architecture, specially themed swimming pools and casual food court dining experiences add to the whimsical atmosphere and larger-than-life flair of these fun resorts. Larger-than-life sports, movies and music icons surround the rooms of three large-scale fun resorts and create a whimsical atmosphere that will bring out the kid in everyone.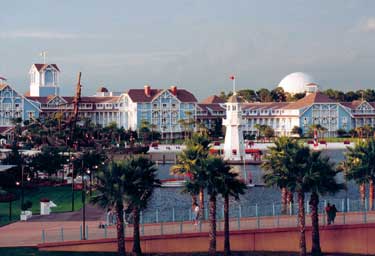 Disney's Beach Club Return to the elegance of the grand hotels of the 19th century. Classic surroundings recall the lazy days of summer along the eastern seaboard. Beautiful beaches, a mini-water park with a beached shipwreck, deluxe accommodations, and outstanding amenities evoke delightful images of classic New England seaside hotels and inns.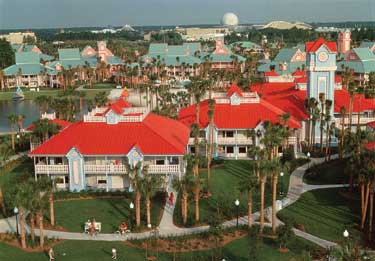 Disney's Caribbean Beach Resort Relax as lush gardens, warm breezes and the distant sound of steel drums beckon. Five brightly-colored "island" villages surround a sparkling 45-acre lake with sand beaches, heated "quiet" pools, a marina, bike rentals, and a nature trail. A lively shopping bazaar, food court, table service dining and two lounges give this resort the color of the Caribbean at an affordable price.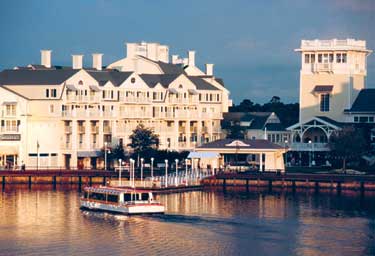 Disney's Boardwalk Inn Beautifully appointed rooms, private courtyards, and magnificent gardens recreate the charming atmosphere of 1940s mid-Atlantic coast bed-and-breakfast inns. And the nearby entertainment district adds all the glittering excitement and fun of that bygone era, with bustling nightclubs, restaurants and shops.
Loews Royal Pacific Resort at Universal Orlando Kick back and relax in a tropical paradise during stays at this upscale Orlando retreat. The hotel's unique design and exotic charm transport you to the enchanted isles of the South Pacific, featuring elaborate landscaping, a lagoon pool, swaying palm trees, and a variety of unforgettable recreational amenities.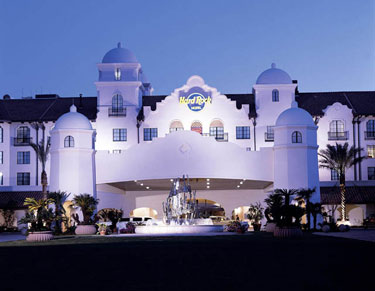 Universal's Hard Rock Hotel Live like a rock star at Orlando's coolest hotel. Neighboring the Universal Orlando? Resort, this exciting getaway features a hip, laid back attitude; a sand beach pool that immerses you in sound; authentic rock 'n' roll memorabilia; the legendary Palm Restaurant and much, much more.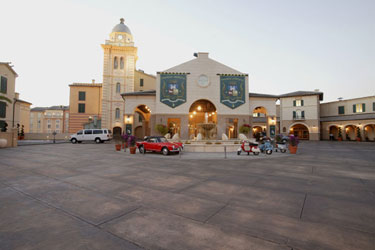 Portofino Bay Hotel Escape to a romantic Mediterranean seaside village nestled around a small bay re-created at Universal Studios Escape. Located at the doorstep of Universal Studios? Florida, Universal Studios Islands of Adventure? and Universal Studios City Walk, the Portofino Bay Hotel at Universal Studios Escape, a Loews Hotel, the first of the destination's new themed on-sit resorts. This 750 room resort is modeled after the world-renowned Italian seaside village of Portofino. Here, guests receive exclusive theme park benefits and luxury amenities. Outdoor recreation includes an elaborately designed Roman aqueduct-styled pool with a water slide, water recreational activities and bocce ball. The Portofino Bay Hotel ...escape to the Mediterranean at Universal Studios Escape. REQUEST INFORMATION
[ Home ] [ Charge ] [ Honeymoons ] [ Privacy Policy ] [ Punta Cana Resorts ] [ Mission ] [ Mexico ] [ Florida ] [ Cruises ] [ bermuda.htm ] [ Hawaii ] [ Caribbean ] [ Booking ] [ Agents ] [ About us ] [ Menu of Services ] [ Contact ]

Call today at 1-877-229-6008 or
mailto:vipleisuretravel@cox.net
VIP Leisure Travel
FAX: (757) 229-6130