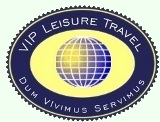 Welcome to the VIP Leisure Travel booking page. Here you will find a booking engines that are easy to use.
We provide booking engines for land based vacations, cruises, hotels and passports. Just click on a banner.
If you need help call us at 877-229-6008 or 757-229-6008.
Land Vacation Suppliers
Cruise Lines
Hotel Accommodations
Auto Europe

Travel Insurance
Cruises Cruises
VIP Leisure Travel
Call today at 1-877-229-6008 or 757-229-6008
e-mail: mailto:vipleisuretravel@cox.net
FAX: (757) 229-6130
Copyright vipleisuretravel.com 2008- All Rights Reserved.